Discover the First-Time Buyers Program at Our Dealership in Elgin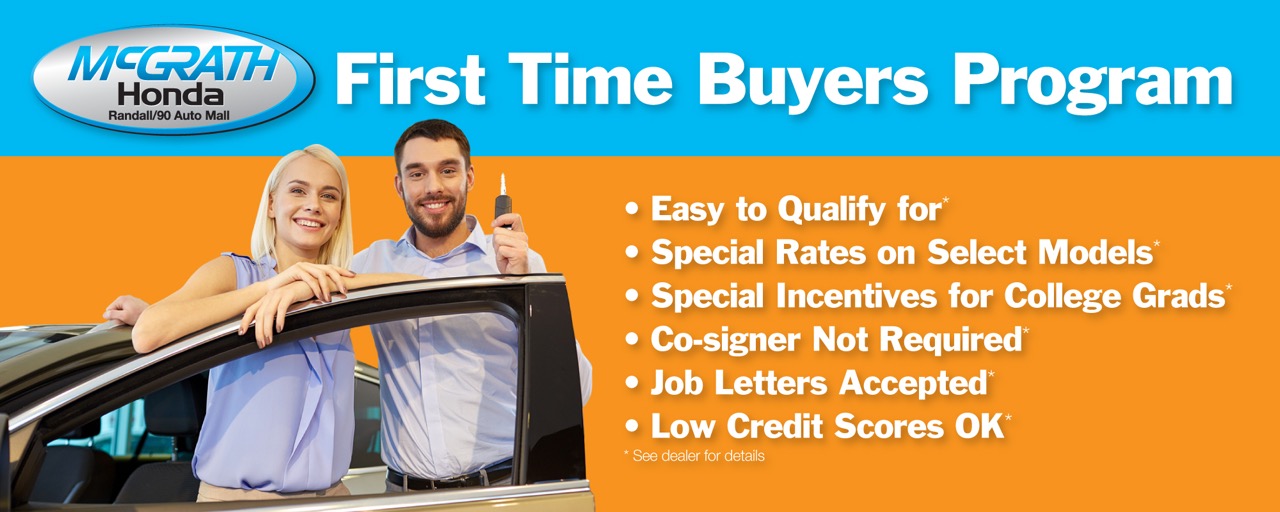 Take advantage of McGrath Honda's first-time buyers program, where your job is your credit, low credit, no credit, no problem. Simply, all you need is your Driver's License and a full-time job and we'll do the rest to get you approved and get special rates with no co-signer needed.

Come to McGrath Honda 2020 N. Randall in Elgin, IL and bring all your papers with you and we'll make it happen. Click here to get pre-approved fast if you want a great experience and see how easy it is to purchase a vehicle at McGrath Honda.
Easy to Qualify For
Special Rates on Select Models
Special Incentives for College Grads
Co-signer Not Required
Job Letters Accepted
Low Credit Scores OK
Sales Hours
847.695.8000
| | |
| --- | --- |
| Monday | 9:00 am - 4:00 pm |
| Tuesday | 9:00 am - 6:00 pm |
| Wednesday | 9:00 am - 6:00 pm |
| Thursday | 9:00 am - 6:00 pm |
| Friday | 9:00 am - 6:00 pm |
| Saturday | 9:00 am - 6:00 pm |
| Sunday | Closed |
Service Hours
847.695.8000
| | |
| --- | --- |
| Monday | 7:00 am - 2:00 pm |
| Tuesday | 7:00 am - 4:00 pm |
| Wednesday | 7:00 am - 4:00 pm |
| Thursday | 7:00 am - 4:00 pm |
| Friday | 7:00 am - 4:00 pm |
| Saturday | 7:00 am - 4:00 pm |
| Sunday | Closed |
Parts Hours
847.695.8000
| | |
| --- | --- |
| Monday | 7:00 am - 2:00 pm |
| Tuesday | 7:00 am - 4:00 pm |
| Wednesday | 7:00 am - 4:00 pm |
| Thursday | 7:00 am - 4:00 pm |
| Friday | 7:00 am - 4:00 pm |
| Saturday | 7:00 am - 4:00 pm |
| Sunday | Closed |
McGrath Honda Elgin Managers Hours
| | |
| --- | --- |
| Monday | 9:00 am - 6:00 pm |
| Tuesday | 9:00 am - 6:00 pm |
| Wednesday | 9:00 am - 6:00 pm |
| Thursday | 9:00 am - 6:00 pm |
| Friday | 9:00 am - 6:00 pm |
| Saturday | 9:00 am - 6:00 pm |
| Sunday | Closed |